Puerto de la Cruz is one of the top destinations in the Canary Islands.
Located in the north of Tenerife, this attractive and bustling resort has been a firm favourite with tourists for several decades. Today it remains as popular as ever. It is nestled in the beautiful region of the Orotava Valley, an oasis of lush green landscape and tropical fruit plantations.
The Old Town is very pretty with a distinct Canarian character. Much of the area around the old fishing port is full of narrow cobbled streets lined with traditional colonial-style cafés and bars. The quaint harbour is also a lovely place to visit. In addition, there is a selection of high-end boutiques, charming plazas and a wealth of tourist attractions located all over the resort.
Introducing Puerto de la Cruz
Puerto de la Cruz's main beach was also designed by César Manrique and provides one kilometre of fine black sand which runs from Punta Brava opposite Loro Parque, to Castillo San Felipe at the west end of the town.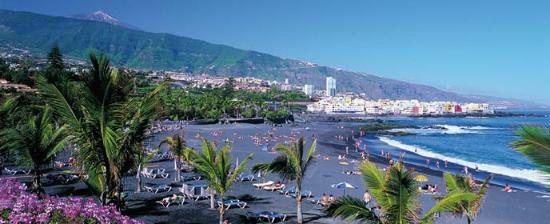 Due to its position on a promontory at the foot of the La Orotava Valley on Tenerife's North West coast, Puerto de la Cruz enjoys the very best of Tenerife's bounty. It receives less rain and more sunshine than the rest of the north of the island but nevertheless receives enough rainfall to sustain lush vegetation that provides the town with its abundance of gardens and its sub-tropical appearance..
UK Callers: 0870 855 4444
Book direct for guaranteed best prices plus free premium wi-fi, safe and welcome pack including a bottle of wine​